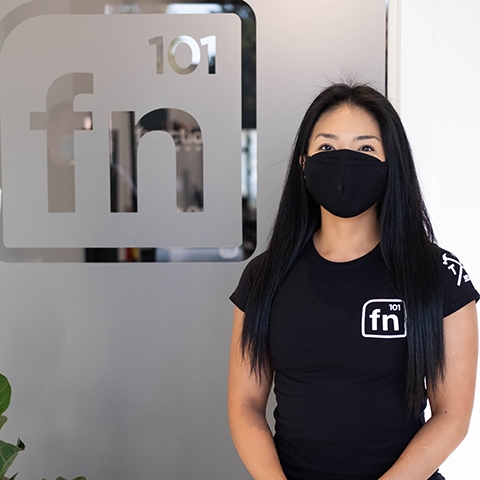 Jasmine Hwangbo
Registered Massage Therapist
RMT
Specializations
Myofascial Release
Swedish Massage
Deep Tissue/Trigger Point Release
My story may be a little different than many in the manual therapy field. I didn't play any sports growing up, and I was always picked last in gym class. Fast forward some years… I started to venture into resistance training and since my previous career required a lot of screen-time (and therefore a lot of sitting), I started to develop some imbalances, leading to pain. I sought help for the first time knowing almost next to nothing about chiropractors, physiotherapists and massage therapists.
This is my long-story-short version of how I came to love the field of manual therapy. It didn't take long for me to realize the power of education, application and encouraging movement to manage my pain (enough so I went back to school!). And now- I couldn't be happier to start my new career at Function101 where these values are the foundation of the team.
I'm extremely excited to work with clients looking to improve their quality of life/movement, reduce pain and learn how to continue doing what they love while reducing stress and chance of (re)injury. My goal is to have everyone learn and experience the benefits of massage for themselves and appreciate the value in learning to move and feel better.
I look forward to the continuous practice and growth of techniques in my toolbelt – swedish, deep tissue, myofascial pain/trigger point release, manual lymphatic drainage, scar tissue mobilization and remedial stretches/exercises to help clients with their individual injuries/conditions, goals and lifestyles. See you soon!