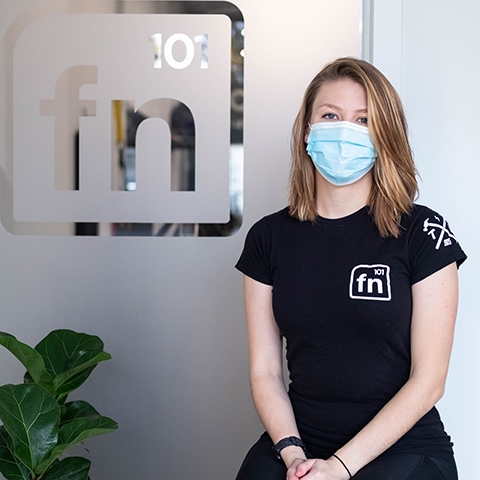 Mikaela "Mik" Fergusson
Client Experience Team
*Former barista & caffeine addict
My role at Function101 is to welcome clients into the clinic, ensuring they are comfortable & excited to start their journey of healthy movement! You will typically find me at the front desk in my yellow mask, waiting to greet you with a smile :) I joined the Function101 Client Experience Team, part-time, alongside my other part-time job at LIFT Church.
I graduated from Master's College & Seminary in 2019 with my Bachelor of Theology, majoring in Youth Ministry – At which point I moved to Hamilton! I may not be an OG Hamiltonian, but I sure feel like it! Locke Street, or the Bruce Trail are my favourite go-to's for days off.
When I first came across Function101 (while working at Starbucks down the street), I booked an appointment as soon as they were available. From there, they became a regular part of my week and the rest is history! My favourite thing about them has always been their prioritization and encouragement of prescriptive movement & exercise. I have always believed in the benefit of healthy movement on our mental health and Function has played a big part in furthering my own health journey!
Outside of hanging out here at Function, you can find me drinking coffee, crocheting, brewing kombucha, playing Candy Crush, re-watching gilmore girls for the 100th time, wearing yellow or spending time with my church family.
Favourite sayings include (but not limited to): "cool beans", "I need coffee", "yellow" and "oat milk is the "milk of the future "