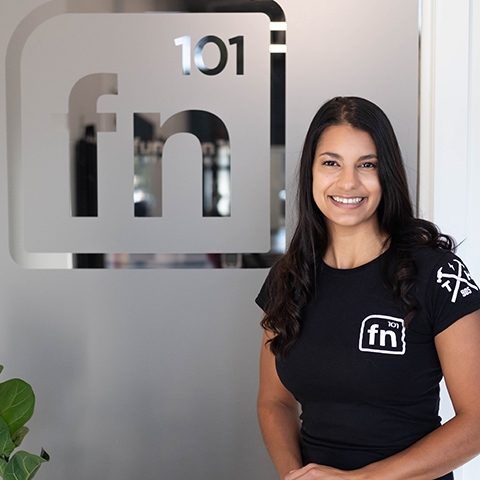 Samantha Nelson
Co-founder + Physiotherapist
MScPT, BSc (Hons Kin), FCAMPT, CIDN, Sport Cert Physio
Specializations
Fellow of the Canadian Academy of Manipulative Physiotherapy (FCAMPT)
Dry needling + acupuncture (CIDN)
Sport-specific rehabilitation (Sport Cert Physio)
Concussion management + vestibular therapy
samantha.nelson@function101.ca
I grew up as an active kid, always running, playing, and having fun outside with my family and friends. I played many different sports throughout the years, never a master at one, but I loved the challenge and competitiveness of it all, and I was willing and eager to try anything sports/activity related.
It was my passion for movement and exercise that drove me to pursue a career in physiotherapy and I feel truly lucky to love what I do every day. Every body is different and that is what motivates me to keep perfecting my skills and broadening my knowledge of the human body and all of the intricacies of how we are connected. I am always learning, whether it be through taking courses, tutoring at McMaster, and also through getting the privilege to learn from my peers and patients each day in the clinic.
Being a Mac PT grad, it has been so rewarding to get back to my roots and help out with the McMaster Physiotherapy program. I look forward to continued involvement with the program and mentoring our new grads in the future.
My clinical interests are in treating sports injuries, from weekend warriors to elite athletes. Most importantly, I love helping people move better and get back to the things that they love.
Outside of the clinic, you'll likely find me staying active + spending time outdoors hiking/running/biking on the local trails, or exploring new breweries and local eats!