Happy New Year! The COVID-19 pandemic has disrupted just about every aspect of ordinary life. Work from home, remote learning, and the closure of gyms and fitness facilities has changed how, when and where we exercise. To help keep us mentally and physically engaged during this lockdown and beginning of winter, the Function101 team has put together some personalized tips and tricks on how to keep moving!
Although it might be tempting to skip your workout during these challenging times, public health officials say that exercise — while undoubtedly crucial under normal circumstances — is essential to your physical health and mental well-being during the COVID-19 pandemic.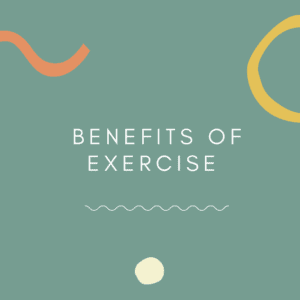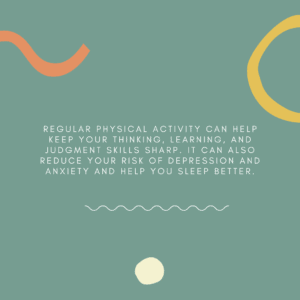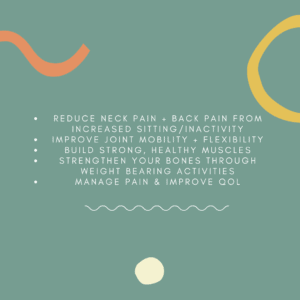 How can I stay physically active despite COVID-19 closures?
According to recommendations from the Canadian Society for Exercise Physiology, adults should aim for at least 150 minutes of moderate-intensity physical activity, or at least 75 minutes of vigorous-intensity physical activity, per week. Click here for the CSEP movement guidelines for various age groups, including kids!
Remember – Even taking a short break from sitting, by doing 5-10 minutes of light intensity physical movement, such as walking or stretching, will help ease your muscles and improve blood circulation and muscle activity. Regular physical activity can help give our days a routine and be a way to stay in contact with family and friends and improve overall positive feelings.
If you have a chronic condition or are an older adult, check with your doctor before starting a new home exercise program. Otherwise, book in with on of the therapists on the Function101 team – we can help by recommending exercises that are safe for you and we will let you know what types of exercise you should avoid. Book in today!

Exercise with Friends & Family
Exercise is an excellent opportunity for family fun, from living room dance parties, family walks and bike rides or playing an active video game, even calorie-burning chores can build muscles and burn calories at the same time.
Get Outside!
Whether it's going for a neighbourhood walk, a hike through the local trails, running, cycling, snowshoeing, skating, shovelling, you name it, we endorse it! Movement + fresh air = good vibes :) Remember to maintain a safe distance between yourself and other active neighbours. Here is a link to some really awesome trails here in our own backyard in HamOnt!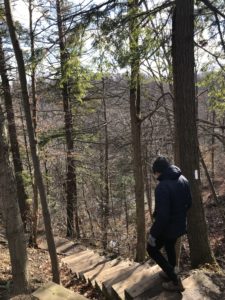 Virtual Fitness
There are many MANY options out there available online to help us all stay active while at home. One of the best ways to stay active and support your local Hamilton fitness studio/trainer is by signing up for virtual fitness classes or training sessions!  Benefits include excellent coaching and a customized routine to your needs, schedule, and exercise preference. Plus, having a class or training session on your calendar allows you to interact with other people in a fun way, which may be just the motivation you need to keep up with your fitness regime.
With the lockdown this means no gym for the time being, but this gym in particular has made some strong changes to be able to keep bringing everyone fitness from wherever they are. They have switched to a full time online ZOOM schedule to keep everyone moving, with unlimited ZOOM memberships offered at $65 per month. Come join their Odeon community full of people who love functional fitness, excellent coaching, and socializing, which is the foundation to building healthy bodies and healthy minds. Even if you don't have equipment at home, they have the ability to run a fully scaled body weight class to challenge you and keep you moving!
F45 Live Memberships are available now for purchase from your favourite downtown studio! Memberships are a weekly commitment offered at $29 per household per week for unlimited LIVE classes plus access to on-demand recorded workouts for your at home convenience. Perfect of you if you're ready to go all-in on getting amazing results in 45 mins! Looking for added accountability? Download the Challenge app and get daily recipes, nutrition tips, goal tracking and daily motivation to stay on track. With no where to go, now is the perfect time to get more creative and healthier at home!
Did you know you can sweat with Momentum trainers from home for only $29/month?! Included are 4 live workouts per week and access to over 160 workouts on demand. The Virtual Gym Membership is great if you're looking for motivation, accountability, or a fun way to spice up your workouts from home. All you need is a mat, 8×8 feet of space, phone/tablet/computer, positive attitude and fitness equipment is optional. Get Momentum and earn some sweat equity in the comfort of your own home!
You can now experience LIVE CLASSES from your home, office, or anywhere you have a computer, smartphone or connected TV. Zoom puts you on a mat in the Westdale Pilates studio, where you can move with the instructors in real time and on-demand. Westdale Pilates is offering a FREE intro pass for 1 week of unlimited live classes to try them out and see if virtual pilates is a good fit for you! Virtual Monthly Unlimited LIVE classes + on-demand video are offered at $79/month, with the option for an on-demand only subscription at $29/month.
If you have any questions or if you're wondering what type of movement/activities might be good for you, ask us, we'd love to hear from you!
You can reach us by email at info@function101.ca, or send us a DM on instagram @function101locke.
Stay active, stay healthy, and keep moving function friends :)